NOVEMBER
RECIPE OF THE MONTH
Introducing  our newest treasure just in time for Thanksgiving!
OVG Spice Rub for Turkey
Ingredients:
Coarse sea salt, raw sugar, coarse pepper, garlic powder, parsley, basil, thyme, sage, rosemary and smoked paprika
Jim always grills our turkey.  Gives me the room I need in the oven to prepare the sides for this special occasion.  Plenty of drippings for the wonderful gravy.  Make extra for left over hot turkey sandwiches!  Yum!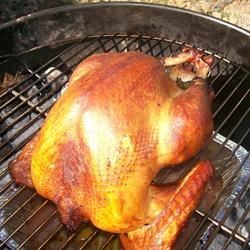 Although not traditional, grilling turkey is the best way of cooking it — it comes out tender and juicy every time!  The turkey drippings may be used to prepare a gravy by placing a metal pan under the turkey inside the roasting pan, and mixing in about 1/2 cup water, adding more water as necessary to prevent the drippings from scorching.  Remove the pan about 30 minutes before the turkey has finished cooking.
12 pound whole turkey
1-2 Tablespoons vegetable oil
2-4 teaspoons OVG Spiced Turkey Rub
Prepare an outdoor grill for indirect medium-high heat.
Rinse turkey and pat dry. Turn wings back to hold neck skin in place. Return legs to tucked position. Brush turkey with oil. Season inside and out with OVG Turkey Seasoning (to taste).
Place turkey, breast side up, on a metal grate inside a large roasting pan. Arrange pan on the prepared grill. Grill 2 to 3 hours, to an internal thigh temperature of 180 degrees. Remove turkey from grill and let stand 15 minutes before carving.
Enjoy!  Happy Thanksgiving!
Recipes from our Oro Valley Gold Seasonings Friends
Thanks for sharing! Join the fun… join us on facebook
Thank you to J. Nebel for sharing this wonderful recipe on facebook.  We love you!
Margarita Grilled Chicken: Marinate some boneless chicken breast in a covered dish with a mixture of 2 cups of 'ready to drink' strawberry Margarita, 1 teaspoon of OVG Chicken
 Seasoning and 1 teaspoon of OVG BOLD Seasoning mixed together. Next day grill chicken and sprinkle with both OVG Chicken Seasoning and OVG BOLD Seasoning, add some side dish like corn on the cob, etc and use left over 'ready to drink' Margarita on the rocks for a beverage…and you will be ready to celebrate living.  "Thanks Jim. Best seasonings in the USA."
_________________________________________________________
GRILLED BAKED POTATOES WITH BACON!
You'll love this!  Take one large Idaho Russet potato and peel.  Cut in half and cut the ends off so potato will stand upright on the grill on the small end.  Wrap a piece of bacon around the top portion of potato and hold in place with a toothpick.  Grill lid should be closed for best results.  Potato will be done when bacon is crispy.  Spoon out a portion of the top of potato (be careful because it will be hot) and fill with shredded cheese.  Now is the time to throw those steaks on the grill as the cheese melts. Take a couple spears of fresh asparagus and roll on the grill for about 3 minutes.  Remove and cut off the flower ends and stick them into the melted cheese.  The potatoes should be a golden brown by now, filled with cheese and topped off with several asparagus tips.  The asparagus and cheese are a delightful addition.  And then, of course, sprinkle your masterpiece with Oro Valley Gold Seasoning!  This tastes great!  Served with your grilled steaks seasoned with Oro Valley Gold Steak Seasoning, your presentation is picture perfect.
_____________________________________________________________________
Best BBq'd STEAK by The Master himself, Chef Jim
Preheat grill to 500 degrees.  Place Porterhouse steaks directly over fire for 2 minutes.  Repeat on the other side.  Reduce heat immediately to low.  Move steaks to "safe" place on grill – not right over the fire.  Let steaks rest several minutes until juices rise to the surface.  Sprinkle generously with Oro Valley Gold Steak Seasoning.  Close lid.  Cook over low heat to desired degree of doneness.  Best served medium rare.  Spices will meld into steaks, accenting all the wonderful flavors to create the best steak ever.  Great with above "Grilled Baked Potatoes".